Stunning and trending in her style, Kim Kardashian stands out in the crowd and is a renowned socialite who garners every media attention she can. 
Known for her high fashion looks, Kim Kardashian is a beauty mogul who spreads inspiration to thousands of teenagers and youngsters across the globe. Although her style and aesthetics have changed over the years, she continues to dazzle everyone with something new. It ranges from her monochromatic nudes to the recreation of Marilyn Monroe's iconic look for the 2022 Met Gala. 
Let's put a pin on that and get back to Kim Kardashian's Met Gala 2022 outfit and other details soon. We will explore her aesthetics further by exploring the different diamond engagement rings she received from her ex-husband Kanye West too. 
Since their epic divorce and Kim Kardashian's red carpet entry with her new cheeky boyfriend Pete Davidson, Kim Kardashian has stepped up into every Instagram scroll and girl's night conversations.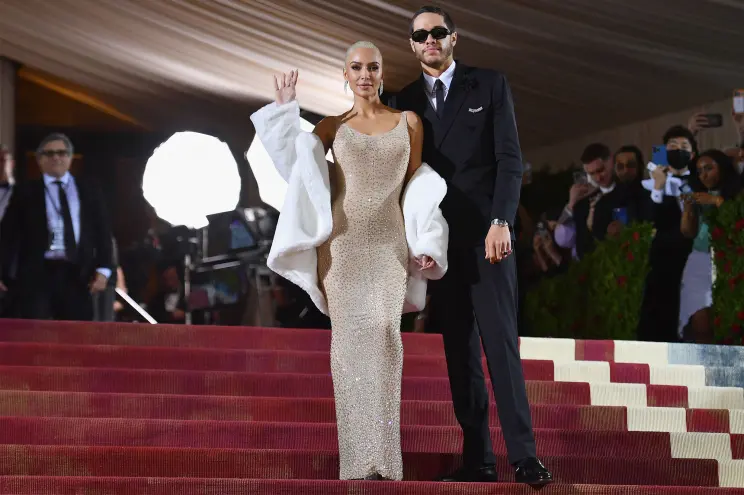 So why don't we sneak-peak into Kim Kardashian's life for some time?

Kim Kardashian Met Gala 2022
For the past few years, Kim Kardashian and her sisters have been gracing the Met Gala red carpet with their breathtaking style and aesthetics, creating history in fashion. This year was no different. 
The Met Gala, an annual fund-raising event organized by Vogue, had several celebrities walk down in style, including our favorite Kim Kardashian. If you don't know, every year, the Met Gala has a theme based on which guests have to dress themselves up, and this year, the theme was the glided age.
Celebrities including Stormzy, Nicki Minaj, and Bella Hadid adorned themselves with Burberry designs. There were others in Christian Siriano, Chloe, Louis Vuitton, and other celebrity designers. 
But among them all, Kim Kardashian's recreation of Marilyn Monroe's outfit was in the spotlight.
Kim Kardashian hit the Met Gala in 2022 with her boyfriend, Pete Davidson, in Marilyn Monroe's custom gold gown. It was the outfit worn by Marilyn Monroe for John F Kennedy's birthday party in 1962. Kim came up with the idea to bring back life to Marilyn Monroe's style last year, and she had mentioned it during one of her interviews. 
But nobody would have expected Kim Kardashian to walk down to the 2022 Met Gala in Marilyn Monroe's iconic outfit. It wasn't just Kim's outfit that caught everyone's attention.
The way she accessorized Marilyn Monroe's gown was another factor. She styled it well with her favorite diamonds. Kim Kardashian's Met Gala 2022 look became perfect as she wore fringe drop earrings. She also dyed her hair platinum blonde to stay in tune with Marilyn Monroe's look. 
Known for revolutionizing fashion, Kim Kardashian adorned the Met Gala red carpet in 2021 with a head-to-toe T-shirt look from Balenciaga. Even before that, she had worn other mesmerizing outfits like Jean Louis' skin-tight ivory dress. We can assure you that she will continue to dazzle every fashionista with her out-of-the-world styles. 
Although Kim Kardashian crafted an admirable look, she didn't accessorize her fingers or hands. Those who are fans of Kim Kardashian's ring collection could be disappointed. But don't worry, for all of you, we have got some spicy details on the diamond engagement rings worn by Kim Kardashian. Anyway, we will get back to them in some time.
Along with Marilyn Monroe's custom gold gown, Kim Kardashian graced the Met Gala 2022 with her after-party outfit. 
Well, she went further to be the trendsetter of the Met Gala 2022 with another Marilyn Monroe outfit. 
It was the one Marilyn Monroe wore for the 1962 Golden Globe Awards, where she received the Henrietta Award for World Film Favorite. 
When Kim Kardashian walked down in Marilyn Monroe's green sequenced gown, it was 1962 all over again. 
She completed her look by carrying a Golden Globe Award to accessorize her outfit and provide it with the aesthetics needed. Instead of a halter style, Kim Kardashian wore Marilyn Monroe's dress with straps to suit her comfort.
Well, that's all about Kim Kardashian's Met Gala 2022 look. 
Let's wait for 2023 for Kim's next look.
Kim Kardashian's Diamond Engagement Rings
As promised, we don't want to keep fans of Kim Kardashian's rings waiting any longer. Let's explore the different engagement rings Kanye West gave Kim Kardashian. Although Kim is no longer wearing one, it's worth checking out the different styles she has brought to the foreground.
In 2016, Kanye West proposed to Kim Kardashian in San Francisco by giving her a cushion-cut engagement ring. It was worth $1.3 million and had a color rating, which means that the diamond was clean and flawless. 
While grading diamonds, D signifies fully white with no other colors, even if you magnify it to the maximum. And these types of diamonds make up to 0.001% of all the diamonds present in the world. Some of the most popular D-graded diamonds are Kohinoor and Cullinans. However, there are several affordable D-graded diamonds too. But, they are pretty small in their size. 
Moving back to Kim Kardashian's diamond engagement ring designed by celebrity designer Lorraine Schwartz, he described Kim's ring as 'perfect.' Also, as per GIA guidelines, the diamonds in Kim's ring didn't have any impurities and followed the 4C values.
Apart from this famous ring, which has been every girl's dream, Kim Kardashian received another 20-carat emerald-cut diamond engagement ring from Kanye in 2016. This second celebrity engagement ring must have been around $8 million and was extremely popular on social media. 
The diamond in the ring had a rectangular shape with slightly trimmed corners and a crystalline shape. It was also by Lorraine Schwartz. Sadly, Kim Kardashian lost this ring during a robbery, where she was held at gunpoint. She had to give it away as a way to save her life. 
There were rumors in 2018 that Kanye West had given Kim Kardashian another engagement ring similar to the lost one. But in reality, it was just a replica she wore during the event to complete the look from the same designer.
This is all the spice we have for you about Kim Kardashian's Met Gala 2022 look and her diamond engagement rings. 
Let's wait for more as we all know that Kim Kardashian will be back with more glamor and rumor in no time. 
Until then, farewell!